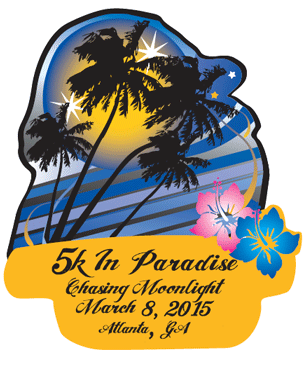 About the race
Name: 5K in Paradise
Distance: 5K
Date: Sunday, March 8, 2015
Location: Kennesaw, GA
Town Center Mall
Get ready to chase moonlight! We will start at 1am, and you have one hour to beat the clock as we count down to the 2am time change! We will also turn the race site into a tropical oasis to get runners ready for the coming of Summer! Runners will receive custom beach shirts, hurricane glasses, and leis, and will finish to a beach party... just like paradise!
Contact
Mark Vescio - 678-895-2631

Start Times
- 12:00 am - packet pickup and race day registration
- 1:00 am - race start time (yes, AM)
Registration Fees
$25 until Nov 30th, $30 until Feb 15, $35 after Feb 15
Team Category: Party and run with your friends and family! Awards will go to the biggest team, the best team name, and the most spirited team! Teams of 5 or more can save $5 per runner!!!
Registration fees are non refundable; race will happen rain or shine!
Register
- ONLINE: register online
- IN STORE: register at Big Peach Running Company - web site
Course/Location
Town Center Mall
400 ERNEST W BARRETT PKWY NW,
KENNESAW, GA 30144-6809
Town Center at Cobb is located two blocks east of I-75 at Exit 269 on Barrett Parkway.
How it Works
Ready to chase moonlight??? The race will start at 1am.... you have exactly one hour of chasing moonlight to beat the 2am time change!
We will do a countdown to 2am and start daylight savings time and the coming of Summer with a bang!!!
Award and Extras
- Top Overall M/F will win awesome awards, Top 3 in the following age groups:
19 & under, 20-29, 30-39, 40-49, 50-59, 60-69, 70 & Over.
THE SWAG!
All participants get to party all night long!! If that is still not enough, all runners will also get a truly one of a kind shirt, lei, and hurricane glass!
THE PARTY!!!
You know we know how to party!! We will convert the site to a tropical oasis and have great tropical food, drinks, and fun! Great beach music will fill the air as you dance and sing the night away!
WHO WE HELP!
We will help support marine wildlife rescue and rehabilitation! Enjoy a fun race and help save the planet one creature at a time!

COSTUME CONTESTS!!
Top three costumes will win great prizes! You do NOT want to miss it!!

PARKING AND LOCATION
We will bring you this oasis to Town Center Mall in Kennesaw... 10,000 parking spots right next to all the activities!