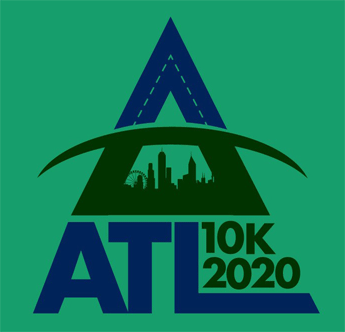 About the race
Name: ATL 10K
Distance: 10K Run/Walk
Date: July 25-26, 2020
Location: WE ARE GOING VIRTUAL!
- Finishers Medals
- Shirt design on right!
Q: What is a Virtual 10K?
A: A Virtual 10K is a race that allows participants to run on any course. For the ATL 10K, they can run any time on July 25th or 26th. Racers must report their times by 11:59 PM on July 26th.
Q: Where should I run?
A: Take on any course of your choosing. Pick your favorite neighborhood, trails, or track! 
Q: How do I submit my time?
A: Once the race begins, submit your result here: 
https://resultscui.active.com/events/ATL10K
Enter your registration ID and finish time, and upload proof of completion (screenshot of your tracking app or photo of your watch with finish time). Your registration IDcan be found on your registration confirmation email. 
Q: When and Where do I get my race shirt and bib?
A: Shirts and awards will be mailed out after the race. Make sure your address is correct when you register! Runners from Atlanta will also have the option to pick up their shirt from Phidippides in Ansley Mall.
Contact
Ed Williams
Schedule
ANY TIME

Registration
- register online
- printable application

Entry Fees
$40
Awards and Extras
Awards for Overall M & F, Masters M & F, and first place in each age group:
10 & under, 11-14, 15-19, 20-24, 25-29, 30-34, 35-39, 40-44, 45-49, 50-54, 55-59, 60-64, 65-69, 70 & over

Location
ANYWHERE