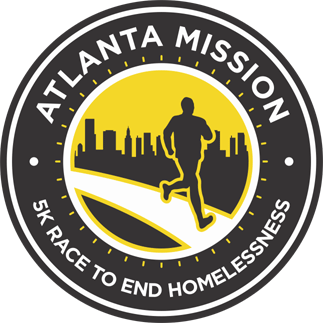 About the race
Name: Atlanta Mission 5K Race to End Homelessness - Presented by Aetna
Distance: 5K Run/Walk
Date: Saturday, February 23, 2019
Location: Atlanta, Ga.
Pemberton Place - World of Coke
Contact
race@atlantamission.org

Schedule
Saturday, February 23
7:00 a.m. - Race day registration and check-in
8:30 a.m. - 5K Run/Walk.
Registration
- online registration and fundraising information

Entry Fees
Registration fee - $35

Rain or shine. No Refunds
Awards and Extras
Official Timing
Chip Timing
USATF Certified Course
Peachtree Road Race Qualifier (GA17079WC)
Long-sleeved shirt
**All awards will be given based on gun time. Chip time is only for your personal enjoyment and record keeping.
If you place in an Overall Division (Top 3 Overall or Masters), you will be removed from eligibility to win a medal in your Age Division.
OverallOpen (all ages)
Masters (40+)Age Divisions: 0-9, 10-14, 15-19, 20-24, 25-29, 30-34, 35-39, 40-44, 45-49, 50-54, 55-59, 60-64, 65+
Barring uncontrollable or extenuating circumstances, our awards ceremony will begin at 9:30am.
**All awards will be given based on gun time. Chip time is only for your personal enjoyment and record keeping.
Location
Pemberton Place - World of Coke
About Atlanta Mission and the Race
On February 23, 2019, a cold Saturday morning in Atlanta, hundreds of men, women and children will take to the streets of downtown Atlanta to run a 5K road race in the bitter cold. The city of Atlanta is home to over 10,000 homeless individuals, people who face the perilous conditions of winter without a roof over their heads.

Atlanta Mission serves men, women and children every single day. The downtown men's shelter alone is a refuge for over 400 men on a daily basis. We hope you will join us this February as donors, volunteers, community members and Atlanta Mission clients run side-by-side in a race to end homelessness!

Your registration fee and fundraising supports emergency shelter and life transformation. In the past year, Atlanta Mission:
• More than 593,487 meals served
• More than 248,095 nights of shelter provided for individuals
• 8,613 men, women, and children served

To start your registration process, click the online link above. Additionally, we ask you to consider creating a team or fundraising as an individual to further support the homeless in our community through your race participation. We suggest you set a goal for how much you want to raise and share with friends, family, and colleagues. All registration fees and donations go directly to Atlanta Mission. Please check out some of the top donor pages for an idea of how to garner support for the Atlanta Mission 5K.

We look forward to running alongside you in the race to end homelessness!

---