The Intown Ten 5K & 10K Road Races

About the race
Name:†Intown Ten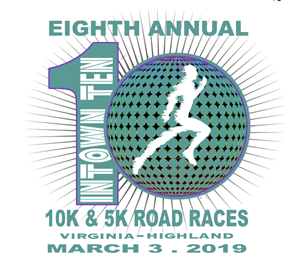 Distance: 10K & 5K Run/Walk
Date: Sunday, March 3, 2019
Location: Atlanta, Ga.
Virginia-Highland
Donít miss the 8th Annual Intown Ten road race in the popular Virginia Highland & Morningside neighborhoods. The 5K race starts at 8AM and the 10K starts at 9AM.† Race proceeds benefit neighborhood charities including Trees Atlanta and the YWCA of Greater Atlanta. You can see the 5K course on our Facebook Page.
"The Intown Ten has become a favorite with runners because of the scenic course, high quality t-shirts, finishers flags for the first 100 10K finishers and first 50 5K finishers and custom winner medals for 5K and 10K participants.†10K Participants registered by February 20th†will receive finisher medals upon completion of the race. Complimentary snacks from vendors such as Highland Bakery, Sprouts Farmers Market, Kind Bars, Go Go Squeez, and more await participants at the finish line.†Both the 5K and 10K are Official Peachtree Qualifying Events."
Contact
Rob Glancy

Schedule
- Sunday, March 3
7:00 a.m. - number shirt/pick up for out of towners and emergency pick up at John Howell Park
8:00 a.m. - 5K Run/Walk.
9:00 a.m. - 10K Run/Walk.
Registration
- online at active.com (use code RUNGA5 for $5 off)
- printable form
- In store at Phidippides Ansley Mall, 1544 Piedmont Ave, Atlanta 30324
Walkers and strollers welcome but must line up behind runners. No dogs allowed.
Register early as this race is limited to 1000 & WILL SELL OUT early and there is NO RACE DAY registration.
Packet Pickup info: †Packet Pickup details will be posted on our Facebook page at facebook.com/intownten after February 8th and at Intownten.com.
There will be a small bag drop area at the race. †Look for the tent with the sign "BAG DROP".
Rain or shine. No Refunds
CHIP†TIMING
Awards and Extras
5K / 10K AGE GROUPS/AWARDS: Overall M & F, Masters M & F, Stroller & First Place M & F each age groups:† 14 & under, 15-19, 20-24, 25-29, 30-34, 35-39, 40-44, 45-49, 50-54, 55-59, 60-69, 70 & over.
Stylish long sleeved t-shirts for 10K participants and short sleeved shirts for 5K participants.†
Location/Course
The course starts and ends at John Howell Park located at Virginia Avenue NE & Barnett Street NE, Atlanta, 30306.

Parking info: Parking is available on non-race route streets and the YWCA parking lot on North Highland amd Adair. †PLEASE do not park near the Virginia-Highland Church, as they have very little parking for their parishioners.
This USATF certified course is very fast with long flat stretches, downhill sections & is a Peachtree Road Race qualifier.
Electronic chip timing.

The 8th Annual USATF Certified Intown Ten 10K Road Race takes place in the residential streets of Virginia-Highland and Morningside neighborhoods of Atlanta.† It is a loop course which starts and finishes near John Howell Park which is located at Virginia Avenue NE and Barnett Street NE, Atlanta, 30306.† Race proceeds benefit neighborhood causes including Trees Atlanta, The YWCA, and Fire Station 19.
The course has long flat stretches and some gentle inclines.† The final stretch is a down hill quarter mile section on Barnett from St. Charles Avenue. The chip timed Intown Ten has become a favorite with runners because of the scenic course.† Complimentary snacks from numerous vendors at the finish line.
Many use their Intown Ten times to qualify for a time wave in the Peachtree Road Race.† Last year's race sold out and there is a 1,000 participant limit, so register early to ensure a spot.
Click here for course map.