Beat The Street for Little Feet 5K, Mile & Fun Run
About the race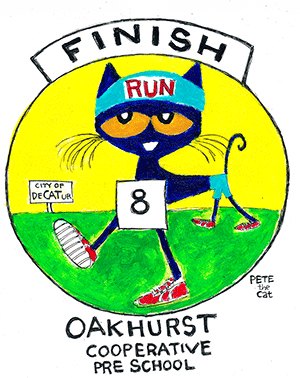 Name: Beat the Street for Little Feet 5K
Distance: 5K & Mile & Fun Run
Date: Saturday, May 2, 2015
Location: Decatur, Ga.
Oakhurst
Pete the Cat is back for the 8th Annual Beat the Street for Little Feet 5K, 1 Miler and Tot Trot in Decatur on May 2, 2015!
This family-friendly event features fun for all ages and is a great run through Decatur and Oakhurst. And all participants registered by April 18th are guaranteed a Pete the Cat T-shirt designed by Decatur artist James Dean.
PROCEEDS TO BENEFIT THE OAKHURST COOPERATIVE PRESCHOOL
Contact
Sarah Toth
Schedule
Saturday, May 2, 2015
7:00 a.m. - Packet pick up and race day registration
8:00 a.m. - 5K Run/Walk
9:00 a.m. - 1 mile
9:15 a.m. - Tot Trot
9:30 a.m. - Awards
Registration
~ In person at the Decatur Big Peach Running Co.
~ Online at active.com
~ race day on site
Race packets will include race numbers and T-shirts and will be available:
•At the Big Peach Running Co. in downtown Decatur the day before the race.
•On the day of the race starting at 7am

Entry Fees
~ 5k: $28 through 5/2/14, $35 race day.
~ 1 Mile: $23 through 5/2/14, $30 race day.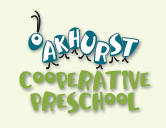 ~ Fun Run: $12 through 5/2/14, $25 race day.
~ Phantom Runner - $35 anytime
Awards and Extras
Prizes will be awarded to the following:
- Top Overall male & female ; Top Masters Male & Female
- 1st and 2nd male & female age group winners in the 5K (10-year age divisions)
- Top 5K runner with jogging stroller
- Top male & female finishers of 1-mile
- Tot Trot participants receive Pete the Cat "medal!"
Our family friendly event has:
•A T-Shirt designed especially for OCP by James Dean featuring our favorite Cool Cat: Pete the Cat!
•A post-race expo featuring our sponsors.

Kids' Activities: Activity tables created and monitored by OCP parents and teachers. May include face painting, sand table play, crafts with recycled and natural materials, etc. Come out and be a kid with your kid!
To see a course map, click here.
We welcome walkers and runners to participate in our race!

About OCP
Oakhurst Cooperative Preschool (OCP) is a nonprofit, parent-teacher cooperative established in 2005. The school was founded with the goal of creating an ethnically, culturally, and economically diverse community that is united both through its commitment to parental involvement in education, as well as fostering a respect for the environment. OCP is one of the few preschools including environmental education in its curriculum. By introducing environmental education to young children in a way that engages and intrigues them, we promote a gentle awareness of our impact on the world, and how we can make a positive difference in the greater community.

Location & Directions
Oakhurst
830 W. College Avenue Decatur, GA
The race is also one of the greenest in the area, reflecting Oakhurst Cooperative Preschool's strong commitment to environmental education and sustainable practices. Compostable cups will be provided to all runners, and special efforts will be made to collect any compostable or recyclable waste generated by the event. In addition, the school will be facilitating a re-use-a-shoe drive in conjunction with the race.
---