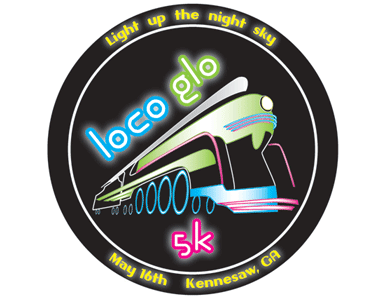 About the race
Name: Loco Glo
Distance: 5K and 1K
Date: Saturday, May 16, 2015
Location: Kennesaw, GA
Town Park Commons
Come join us and light up the night sky at the Loco Glo 5K! All participants receive an awesome shirt, glow items, and FREE entry into the post party and festival! The event is walker friendly, so come run or walk…. Either way you will want to party all night!!
Contact
Mark Vescio - 678-895-2631

Start Times
- 5K: 9:00 pm
- 1K: 8:30 pm
1K Fun Run
Bring your littler ones to join the fun on a safe, completely closed 1K that 's run just before the sun goes down! (It will be run before the 5K start!) All 1K runners receive the same shirt as the 5K, and a glow item as well!

Registration Fees
- 5K: $25 until March 31, $30 April 1 thru May 12, $35 on race night
- 1K: $15 until May 12, $20 on race night
$5 PER RUNNER DISCOUNT FOR TEAMS OF 5 OR MORE!!! (MUST TURN IN FORMS ALL AT ONCE!)
Registration fees are non refundable; race will happen rain or shine!
Register
- BY MAIL: print registration form
- ONLINE: register online
- IN STORE: register at Big Peach Running Company - web site
Location
Town Park Commons
125 Park Drive
KENNESAW, GA 30144-6809
Plenty of free parking on site!

Award and Extras
- Top M/F and MASTER'S M/F will win SPECIAL AWARDS! Top 3 M/F in both races in age groups:
14 and under, 15-19, 20-24, 25-29, 30-34, 35-39, 40-44, 45-49, 50-54, 55-59, 60-64, 65+