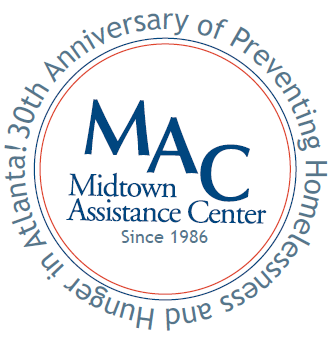 About the race
Name: Midtown Race for MAC 5K
Distance: 5K Run/Walk
Date: Saturday, May 11, 2019
Location: Atlanta, Ga.
New Location Near Park Tavern
Join us for this new 5K with venue at Atlanta's Piedmont Park.
Benefits Midtown Assistance Center (MAC).
Contact
Lori Brown

Schedule
- Saturday, May 11
On-site registration at main pavilion from 7:15 to 8:15 am
8:30 a.m. - 5K

Registration
- online registration
- printable registration
- In- store registration at Phidippides Ansley Mall (404 875 4268) or
Sandy Springs (404-255-6149)
Entry Fees
Pre-registration until April 11 - $25
After April 11 and race day - $30

Awards and Extras
Overall M & F , Masters M & F, and Top M & F in each of the following age groups: 10 & under, 11-14, 15-19, 20-24, 25-29, 30-34, 35-39, 40-44, 45-49, 50-54, 55-59, 60-64, 65+.
All pre-registered participants will receive a 100% cotton short-sleeved shirt. Race day as supplies last.
Location/Course
Set up at south corner of Piedmont Park. Near Charles Allen Gate—Charles Allen and 10th Street
Start on 10th Street 25 yards east of Charles Allen gate
Go west on 10th Street
Right on Piedmont Ave ( water stop at Piedmont and Westchester next to Florist)
Turn Right on Monroe Drive
Turn Right on 10th Street
Turn Right into the park at the light/ Charles Allen gate
Finish just 25 yards into the park on the right curb
Directions to Piedmont Park - click here.