Found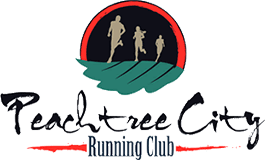 ed in 1981, our club has grown to be the second largest running club in the Metro Atlanta area. With over 90 miles of cart paths in Peachtree City, you are bound to run into someone you know eventually (pun intended!). We have members from all walks of life, ages and abilities.

The Peachtree City Running Club holds its monthly meetings on the first Monday of every month with the exception of July and December. Meetings begin at 7:30 p.m. and are usually held at the Dolce Peachtree Conference Center. Actual meeting place is usually announced via e-mail and posted on our web site.

Our featured event is the Peachtree City Classic held in the fall of each year. The Peachtree City Classic consists of three different races: Women's 5K, Men's 5K and the 15K Open which is also the RRCA Georgia State Championship. All races are on certified courses. The course was voted the Best Course by Georgia Athlete Magazine.

Some Key Upcoming events include
Monthly Grand Prix (usually first Saturday of each month)
All-American 5K on May 25th
Marathon Relay on June 15th
and Summer Track Series Open to All Ages, hosted Wednesday nights at Riley Field throughout the summer.

And of course our weekly runs which are open to the public

Our club is very active and unless there's another scheduled race or special event, we host the following runs which are open to the public:

Saturday Morning Fun Run – Meet us every Saturday morning (unless there's a special event) at 8 a.m. in front of the Peachtree City Hall/Library for a 10K/5K run and walk. We have runners of all ability groups, so there's no need to worry about the pace.

Click here for a map of the 10K course used for the weekly fun run.

Sunday Morning Distance Run – Marathoners and long-distance runners, you know who you are. Join us for a longer run of 10 miles and up starting at Huddleston Elementary School on Kelly Drive across from the Frederick Brown Jr. Amphitheater. Starting times vary depending upon the time of the year. Between the first Sunday after Memorial Day and the last Sunday before Labor Day we start at 6:30 am to "beat the heat". The rest of the year we start at 7:00 am.

For more information, please contact Al Barker at (770) 460-6349.