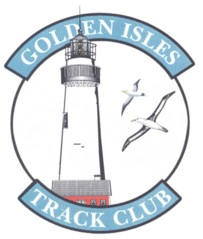 Location: The Golden Isles of Georgia – Brunswick, St. Simons, Sea and Jekyll Islands (Glynn County)

Founded: The club was originally founded in the mid-1980's, subsided, was resurrected in the late '80's and non-profit status applied for and by-laws created then.
Members: Less than 10 members started the club in the mid-80's and around 5 in the late 1980s.
Total current membership: 139
Around 40 "active" members
Age range of your members: 16-74 years of age
Female members: 53
Male members: 86
Cost to join the club: The first year is free; after that, $12 annual "single" dues and $18 annual "family" dues

Club dues go to: Postage for mailings, generation of club newsletter, storage unit rental fee, paper supplies for parties, a portion to the Road Runners Club of America and all GITC members become members of that org as well.
What members get for joining the club: Email updates on club happenings, "club discount" for GITC sponsored races, club newsletter, invitation to all club social activities (parties, etc), 10% discount at Fleet Feet Sports in Savannah, access to the club coach.
Club meetings: The monthly GITC business meetings are held the second Tuesday night of each month (except June-August) at 7pm at the Beach Comber restaurant on St. Simons Island.
Does the club offer coaching: GITC has a club member who serves as a coach for interested runners – on an as-needed and as-requested basis.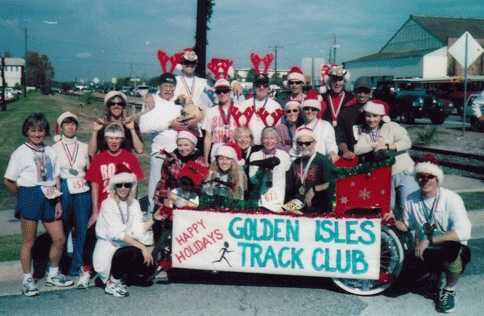 Weekly/monthly runs: GITC meets every Thursday in the village/pier area of St. Simons Island for a group fun run; the run begins promptly at 7pm and members and friends gather around 6:45 pm to meet and greet and pair up according to distance/pace; walkers welcome and all paces – usually 2, 4 or 5 ½ mile routes; after the fun run, members eat/drink/be merry together at a local pub. Various members run together during the week for different distances and paces.
Levels of runners at the club: All types – we have walkers, beginning runners, slow runners, fast runners, elite, marathoners, iron-men, new runners, long-time runners – we also have folks who just want to "hang out" and not run or walk at all – all are welcome.
Do have to belong to the club to join in on a run: No. You just have to belong to GITC to get the club race discount. All are welcome to the run runs and we promote the weekly run as such.
Most popular route that the club runs: The weekly club run route that runs beside the ocean for part of the route.
What events does the club put on each year: GITC organizes annually the Sidney Lanier Bridge Run 5K in February, the 4th of July 5K and 1 mile, and one race in October (has been the Bar to Bar and also the Causeway Classic in past years). GITC provides finish line duties and results for several other area races annually and for the high school cross country invitational on Jekyll annually. GITC will be organizing a new race for the City of Brunswick in the fall of 2005 to correspond with a chili cook-off festival and street art fair.
Being a vacation destination, what are some the states or countries people have come from that have run with the club: Being a vacation destination and also home to the Federal Law Enforcement Training Center brings many non-Georgians to our weekly runs. We have had visitors from many states including South Carolina, Florida, Alabama, North Carolina, Ohio, Michigan, California and many other states. We have current members who have run with us, and been active when in our area, in Delaware, Alabama, South Carolina, Maryland, Michigan, Canada, Germany, New Zealand, South Africa, Ohio, Florida, California, Nebraska, Mississippi, and many more.
Club runner highlights: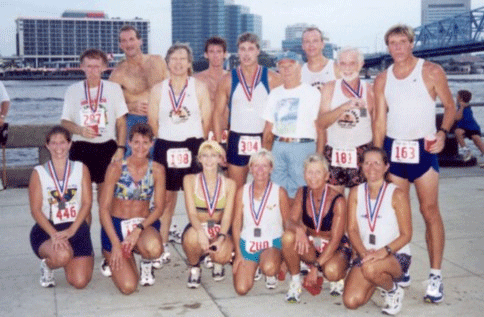 GITC does have one active IronMan participant - new club President Mike Tennent. Mike began IronMan competitions when he turned 50 and now has completed 8 total.
GITC also is home to another top athlete – "Backwards" Bud Badyna who holds 5 Guinness World Records for Backwards Running; he has the Guinness record for the 200 meter sprint, 5k, 10k and two records for the marathon with his fastest backwards marathon at 3:53:17. He also holds two European Records for retro running and has twice won the April Fools Day backwards mile in New York City. His web site is www.backwardsbud.com.
GITC also has several members qualifying for the Boston Marathon and many members who have been top runners in college and afterwards.
From the club...
**GITC members are a very friendly group and welcome visitors and new members with open arms. With all ages and backgrounds, the group is very diverse. The neatest thing is that "age" doesn't matter – it is not a factor in the club interaction.
**GITC has many fun social activities during the year: New Year's Eve Party, Super Bowl Party, St. Patrick's Day Party, 4th of July Beach Party, Holiday Party and several "beach parties" throughout the year. Members also take "road trips" to area races throughout the year.
**GITC and its members supports many community endeavors; two GITC races benefit local charities, and members representing GITC have volunteered for local Special Olympics games, DNR's CoastFest, Relay for Life, the High School Cross County Invitational Games, and the American Red Cross. The club also makes monetary donations to the county high school track teams
**For fitness, fun and friendship, GITC is the PLACE TO BE!