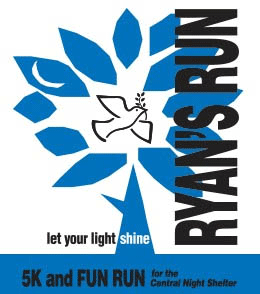 About the race
Distance: 5K and Fun Run
Date:†Saturday, June 10, 2017
Location: Atlanta, GA
5K run or walk through historic downtown Atlanta and Grant Park.
5K Timed Race on USATF Course
All proceeds benefit the work of Central Night Shelter.
Contact Information
questions - email us
Schedule
- Saturday, June 10, 2017
7:00 am - Race number pick-up opens (same day registration allowed)
8:00 am - 5k start (rain or shine)
9:00 am - Fun Run around the capital
Race is limited to 1000 participants.
Walkers and runners of all ages and levels are invited to participate.
Please note: No gear check will be available.
T-shirt and number pick-up morning of event OR Big Peach Running Co in Decatur Friday June 12th 4-7pm

Registration
5K - $30
Fun Run - $15
- online registration
- printable registration

Awards and Extras
Age group awards for timed runners: M&F: 10 & under, 11-14, 15-24, 25-34, 35-44, 45-54, 55 & over. Top 3 over-all M & F winners
The course is well marked and supervised by police officers.
Enjoy music at the finish line.
All participants receive a t-shirt.
Location
Race starts and finishes at Central Presbyterian Church, 201 Washington Street. 5K Timed Race on USATF Course
Parking provided in the underground garage located on Central Avenue next to the Shrine of the Immaculate Conception Catholic Church. Georgia State and Five Points MARTA stations are within walking distance.
About Ryan's Run for Central Night Shelter 5K
Ryanís Run for Central Night Shelter, a 5K race, is a fundraising event for the work of Central Night Shelter. The Shelter is a non-profit, all-volunteer organization started in 1981 by an ecumenical group concerned about the growing problem of homelessness here in Atlanta. It has evolved into a winter night shelter serving the needs of 90-100 homeless men in downtown Atlanta from November 1st through March 31st. Open seven nights a week, the Shelter provides guests with a hot meal, bagged lunch and breakfast, showers, access to medical and foot care, recreational activities such as Yoga, basketball, and the chance to be part of a choir.

Mark and Katie Bashor have been an integral part of Central Night Shelter for over 30 years. Mark served as Executive Director for many years until Katie took over in 2000. Their children, Ryan and Jessie, grew up working at the Shelter spending time there every week with Mark and Katie. Ryan Bashor died August 6th, 2014 after a very private battle with bipolar disorder. He lived in Oregon with his wife, Rachael, and daughter, Jocie. Ryan and Rachaelís son was born in December after Ryanís death. Ryan was a profoundly loving, generous, and caring man who never knew a stranger. His personality filled a room and his heart was open to all but especially to those in need. He was much beloved at the Shelter by both the guests and the volunteers. This race is named for Ryan in tribute and as a reminder of the stigma attached to mental illness that prevents so many, housed and unhoused alike, from seeking help.